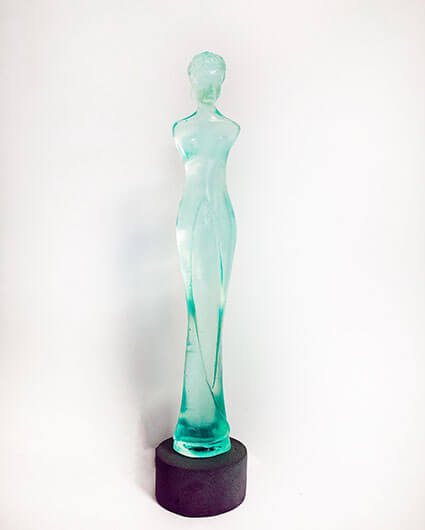 'In sich gekehrt' by Ellen Welten-Louwers
Art present 2018
"Bronze and glass are two fundamentally different materials. Working with both materials is therefore very exciting and varied. Above all, it is great fun to combine the two.
'In sich gekehrt' is a female figure of inner and outer beauty. The sculpture follows the example of my favorite 1.80 meter bronze sculpture. It took me a lot of tests, examinations and samples to finally implement this small model with new material." – Ellen Welten-Louwers
Ellen Welten-Louwers
The Dutch artist Ellen Welten-Louwers taught for 35 years at the Freie Akademie in Oss (Netherlands) in the fields of watercolor painting, painting with acrylic and oil paints, wax modeling and bronze casting as well as stone chisel. In addition, she completed an apprenticeship as an art teacher in Tilburg (Netherlands) and an apprenticeship as a glassmaker in Bruges. Since moving to Germany, she has been giving workshops in painting, drawing and modeling. She mainly works with bronze and glass.
Her sculptures have been sold all over the world and she has exhibited her work in many international locations, including in England, France, China, Canada and Japan. Since June 30, 2018, she has opened her own wonderful sculpture garden in Gerolstein, Niedereich, which, in addition to presenting her own art, also offers many international artists the opportunity to exhibit their own works.
You can find a contribution about Ellen Welten-Louwers on the television program Landesschau Rheinland-Pfalz here. 
You can find more information about Ellen Welten-Louwers here.
Discover all art gifts of Schaebens