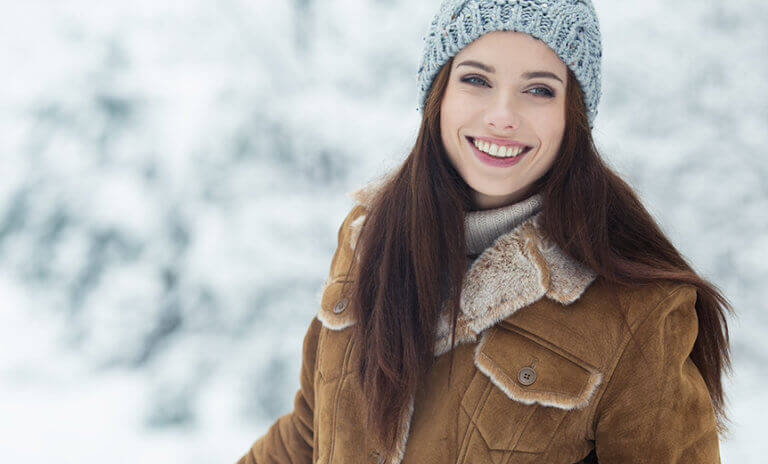 Tips to get us through the winter looking beautiful
For delicate skin
We've all been there: at frosty temperatures, our skin quickly becomes dry and scaly. There's also the matter of dry indoor air thanks to heating, which takes even more moisture out of the skin. Winter-stressed skin therefore needs an extra portion of care.
After showering (short and not too hot!), it is best to use a moisturiser with a high fat content. Use a moisturizing face mask 2-3 times a week. Generally speaking, you should refrain from using any products that contain alcohol in winter. Natural thirst quenchers such as aloe vera, hyaloron or cucumber are more suitable at this time of year.
These ingredients can be found, for example, in the Schaebens Professional Hydro Gel Mask, which is mixed immediately before use and provides the skin with a deep moisturising treatment.
Fight the winter pallor
A pale complexion is fashionable, but it often makes us look tired and unhealthy. If you want to forgo the solarium for the sake of your skin, you can put some colour back into your face with a light self-tanner.
It is important to carefully exfoliate and moisturise the skin beforehand. Otherwise, unattractive dark spots can be caused by dry patches. The Schaebens Professional Muesli Mousse Mask with its natural exfoliating particles from almond peel and cranberries gently removes loose skin cells and impurities and is therefore the ideal preparation.
For soft lips
Not only the skin suffers in winter, our lips also often become brittle and cracked. Keep your hands off the classic lip balms! Creams containing fat, such as vaseline or milk fat, provide the best protection against cold air and simultaneously smooth and soothe dry lips.
Our make-up tip: in winter, avoid matte lipsticks if possible, as they make the lips even drier. It is better to use a light gloss or lipstick with a creamy texture.
Warm feet
Cold feet put you in a bad mood! A warm foot bath at approx. 37 to 40 degrees Celsius works wonders here. Add a few drops of essential oils such as lavender or melissa to the water and relax for about 20 minutes. Your winter feet need even more care? Simply add a few drops of olive or almond oil to the water. Then carefully dry your feet and put on warm woollen socks.
Don't forget the hands and nails
Hands and fingernails react to external environmental influences such as cold and dryness. That's why our hands need considerably more fat and moisture in the cold season. Apply a moisturizing or intensive care mask thickly onto both hands during the foot bath. Gently massage into the fingernails. Then put on cotton gloves and leave to absorb. Makes hands velvety soft and good as new!
Tip: While hands and feet are being thoroughly warmed and cared for, you can listen to music or use a relaxing or meditation app.
True beauty comes from within
It's always been this way. For a radiant complexion, it is advisable not only to drink mulled wine in winter, but also plenty of water and herbal teas. They are warm, healthy and moisturize the skin from the inside.
In spite of the bitter cold, you should get as much fresh air as possible. Even short walks promote the blood circulation of your skin and supply it with oxygen.
For an extra portion of nutrients and vitamins, which the skin lacks in winter, it is also advisable to take high-quality dietary supplements. Schaebens Skin, Hair & Nails is the ideal nutritional supplement for all those who want to support their natural beauty.
Off the sofa
This also applies in the cold season. In winter it is especially important that we get enough light and fresh air every day! So don't let the cold, cloudy winter weather put you off and go outside for half an hour. Also in order to prevent the unpopular Christmas kilos and start the new year fit and healthy, you shouldn't forget to get enough exercise and eat healthy food in winter.
With a combination of fitness exercises, light recipes and selected face masks, the Schaebens 30-minute beauty programme helps to integrate sufficient exercise, effective skin care and a vitamin-rich diet into everyday life. For all those who want to spend a relaxing break just for themselves even during the stressful pre-Christmas period.
And please remove make-up
Even if you were out late at the Christmas party, you shouldn't forget to remove your make-up before going to bed. The skin does not forgive such beauty sins − especially in winter!